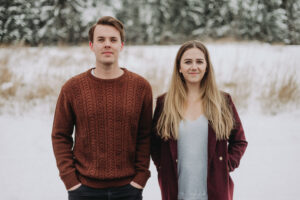 We have just released 2 new worship songs and wanted to share them with you! Our aim is to write inspired music for both a corporate and personal setting. To us, worship has been one of the most important parts of our faith. Often our views of God have been gradually skewed by our experiences in the world, and worship music is a great way to keep truth reverberating in us. It is an amazing way to express thankfulness and praise to our creator, and to experience the reality of His presence.
"Found" is based on Ephesians 1:5 & Psalm 23:6. It is based on the concept of God pursuing us even when we wander away and that no matter how far away we fall from him, God still loves us and pursues us out of his love and faithfulness towards us. This was our debut single and was released on March 12th.
On April 16th, we released "In All Things" and it is based on Acts 17:28 & John 1:3. The verses are based on Acts 17:28 and how we LIVE in Him and MOVE in Him, and the overall theme of God working ALL THINGS together for good (Rom 8:28) We wanted to share some links below and would love the opportunity to share our music.
To learn more about them, visit their YouTube channel: https://www.youtube.com/channel/UCgR44xAPKK9KHSmo6-ff9Yw

Email: briannagracestevenson@gmail.com
Facebook: https://www.facebook.com/stevensonsmusic
Favorite Charity: https://www.alphacanada.org (Alpha Canada)